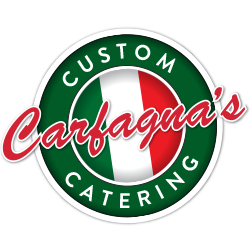 Carfagna's Desserts
---
Specialty Cakes

Check on Availability

New York Style Cheesecake | Turtle Cheesecake
Italian Strawberry Cream Cake
Double Fudge Chocolate Cake | Almond Cream Cake | Raspberry Almond Cake
Lemon Mascarpone Cake | Italian Tiramisu

All Cakes are Priced Whole and Vary in Price and Number of Slices

Homemade Specialties

Homemade Cannoli
Pizzelles (Vanilla, Lemon, Almond)
Lemon Iced Ciambelles

Cookie Trays

Assorted Mini Bar Cookies

An Assortment of Available Specialty Bar Cookies
Lemon Square, Maple Walnut, Marble Cheesecake
Pecan Tarts, Brownie Delights, Apple Walnut
Medium Tray (50 cookies) $85.00
Large Tray (75 cookies) $128.00

Carfagna's Homebaked Cookies

Assorted Oatmeal Raisin, Chocolate Chip, Toffee, Peanut Butter, White Macadamia
Medium Tray (5 Dozen Cookies) $85.00
Large Tray (8 Dozen Cookies) $109.00

Italian Gourmet Cookie Trays

Assorted Italian Biscotti, Pizzelles, Fruit Filled Cookies, Clothes Pins
Medium Tray (Serves 25 to 30) $120.00
Large Tray (Serves 40 to 50) $240.00

Seasonal & Specialty Candies & Cookies

Specialty Candies such as Jordan Almonds, Chocolates and Torrones are Always Available.
Availablity of Italian Specialties such as Panetone and Christmas Cookies are Based on Season.
NOTE: All prices are subject to change due to unexpected changes in product costs.